Updated April 30,2012
Do your children know the "Pledge of Allegence"? Teach them to respect the America flag, if you live in the USA.
Linking up with Connie at
Quilting By The River
on Tuesday.
My friend Lucy at
Charm About You
is having another Fugly Party, I had so much fun last time that I will be doing it again. It starts on May 8th so get ready to trade, please come join me. Click on the button and find out how you can giveaway, trade or whatever you want with that fabric you just don't want anymore.
Fun, fun, fun, we will have together.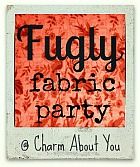 I really enjoyed going to all the blogs this week participating in the "Table Topper Blog Hop", it was lots of fun and I got a lot of great ideas! July 1, 2012, they are going to have a "Red, White, and Blue Block Blog Hop", if you are interested click on the new button on the right. After you read the latest news from the boon docks.
I received this little pine tree from my in-laws a couple of years ago. I think it is so pretty!
Well I finally know Spring is here because a pair of robins have nested in this little tree. Why would they nest so close to the ground, I don't know. But, I wish I could find a solid fabric in this color of blue.
Yesterday when I took David to look at the egg, we noticed 2 eggs. Sorry no picture to share. Sometimes it's just nice to go out and be in the yard. Today it rained most of the day.
I needed something to put these accessories in for my iPad so I made this with some scraps!
Now my iPad and I are ready to go somewhere just don't know where?

Here is a peek at what I am going to work on this week.
Hope you are having a nice weekend!

Until later, Lisa